DONUTS
THE NEW AND IMPROVED "MILK MONEY" DONUT AVAILABLE EVERYDAY!
Donuts rotate in store daily, 3 options available while supplies last.
Be sure to check us out on Beignet Wednesdays, OG Thursdays and Filled Fridays!
Donut holes also available in various flavors. *Select days only
We're very excited about this new and improved recipe. Our team has been working with Chef Matt Masera to create THE MILK MONEY donut. This donut will be available everyday.
A LIME CALLED QUEST (MATT MASERA)
BRIOCHE, BANANA PUDDING, CARAMEL GLAZE, NILLA WAFFER CRUMB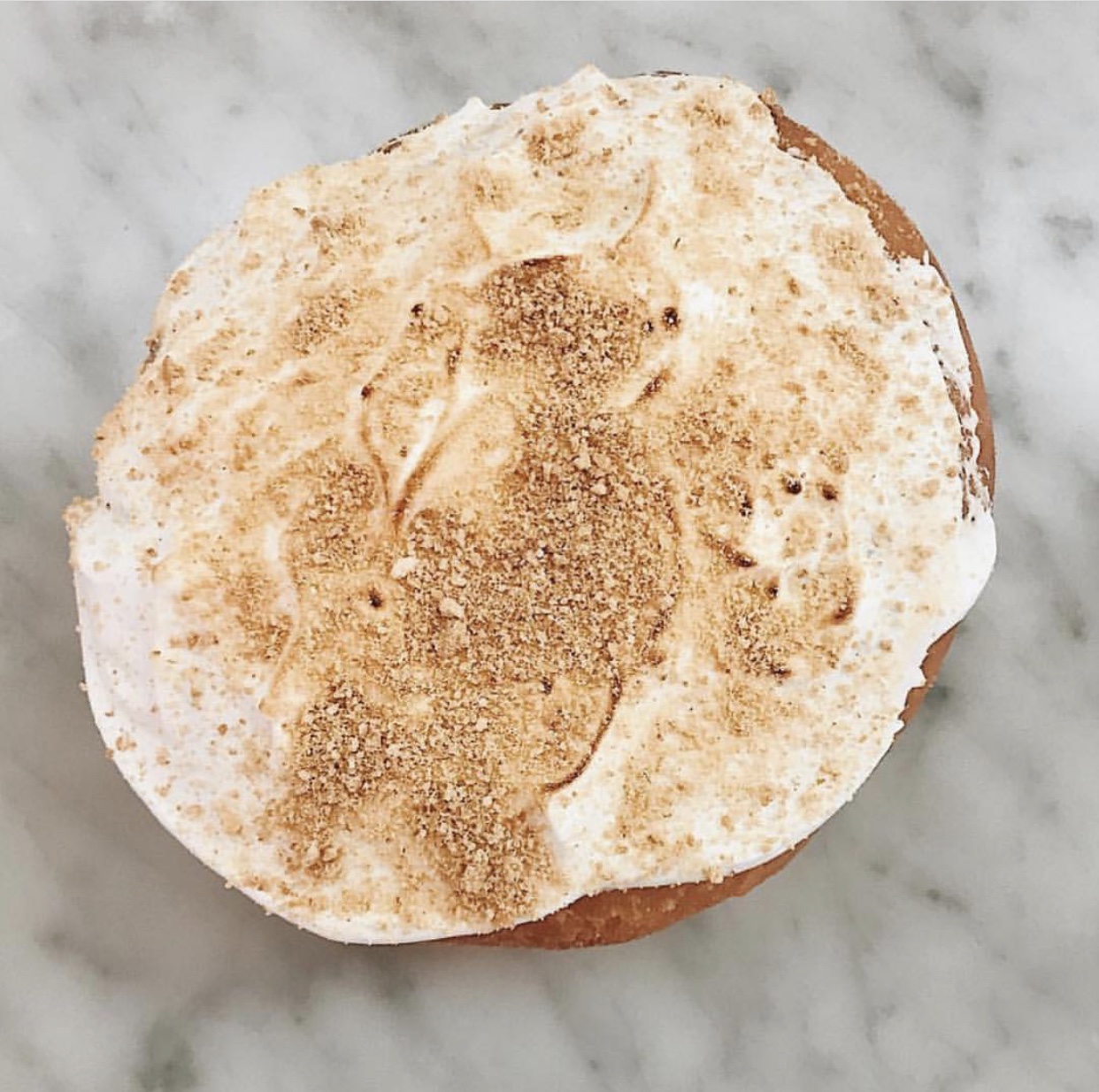 VANILLA BRIOCHE, LEMON CURD FILLING, TOASTED MERINGUE, GRAHAM CRACKER CRUMB
VANILLA BRIOCHE, VANILLA PINK GLAZE, CIRCUS ANIMAL COOKIE CRUMBLES
*FILLED OR UNFILLED*
CINNAMON BRIOCHE, CINNAMON GLAZE, CINNAMON TOAST CRUNCH
*FILLED OR UNFILLED*
ORANGE BRIOCHE, CHOCOLATE ORANGE PUDDING, ORANGE GLAZE, ORANGE CRUMB, CHOCOLATE SHAVINGS
VANILLA BRIOCHE, VANILLA GLAZE, OREO COOKIE CRUMBLE
*FILLED OR UNFILLED*
VANILLA BRIOCHE, HUCKLEBERRY GLAZE, MILK CRUMB, GLAZED HUCKLEBERRIES
*FILLED OR UNFILLED*
BRIOCHE, KAFFIR PUDDING, LIME GLAZE, FRUITY PEBBLES
*FILLED OR UNFILLED*
BRIOCHE, COFFEE GLAZE, BROWN SUGAR STREUSEL, POWDERED SUGAR
DARK CHOCOLATE PUDDING, RASPBERRY GLAZE, SHORTBREAD CRUMB, RASPBERRY POWDER
CINNAMON BRIOCHE, CRANBERRY GLAZE, OATMEAL STRUDEL
BRIOCHE, CHOCOLATE PUDDING, BANANA GLAZE, PEANUT CRUMBLES, GROUND BANANA CHIPS
PUMPKIN CREAM FILLING, COFFEE GLAZE, BROWN SUGAR STREUSEL
VANILLA BRIOCHE, VANILLA GLAZE, COCO PEBBLES, DINO SPRINKLES
CHOCOLATE PEPPERMINT PUDDING, VANILLA MINT GLAZE, CHOCOLATE SHORTBREAD, PEPPERMINT SPRINKLES
LEMON BRIOCHE, LEMON CURD FILLING, LEMON GLAZE, LEMON CRUMB, CRANBERRY DUST
HONEY BRIOCHE, HONEY GLAZE, HONEY COMB CANDY, HONEY DRIZZLE, SABLEÉ CRUMB
VANILLA BRIOCHE, WHITE CHOCOLATE GLAZE, GREEN TEA CRUMB, MACADAMIA NUTS
VANILLA BRIOCHE, COFFEE GLAZE, COFFEE STREUSEL
*FILLED OR UNFILLED*
JAM FILLING, VANILLA GLAZE, PEANUTS
*ALSO AVAILABLE VEGAN*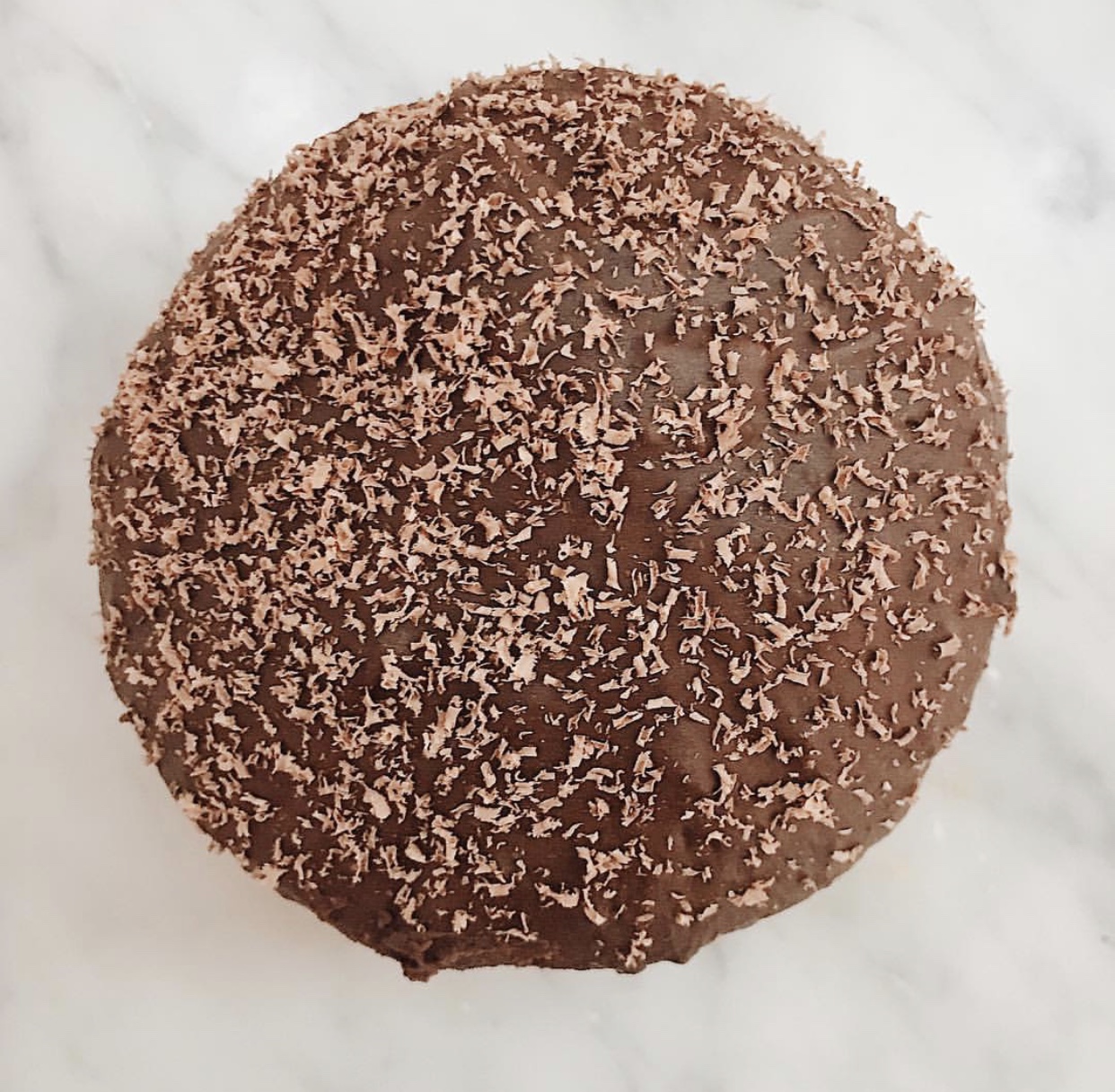 BRIOCHE, BAVARIAN VANILLA CREAM, CHOCOLATE GANACHE
BRIOCHE, CARAMEL FILLING, CARAMEL GLAZE, CRUSHED PRETZELS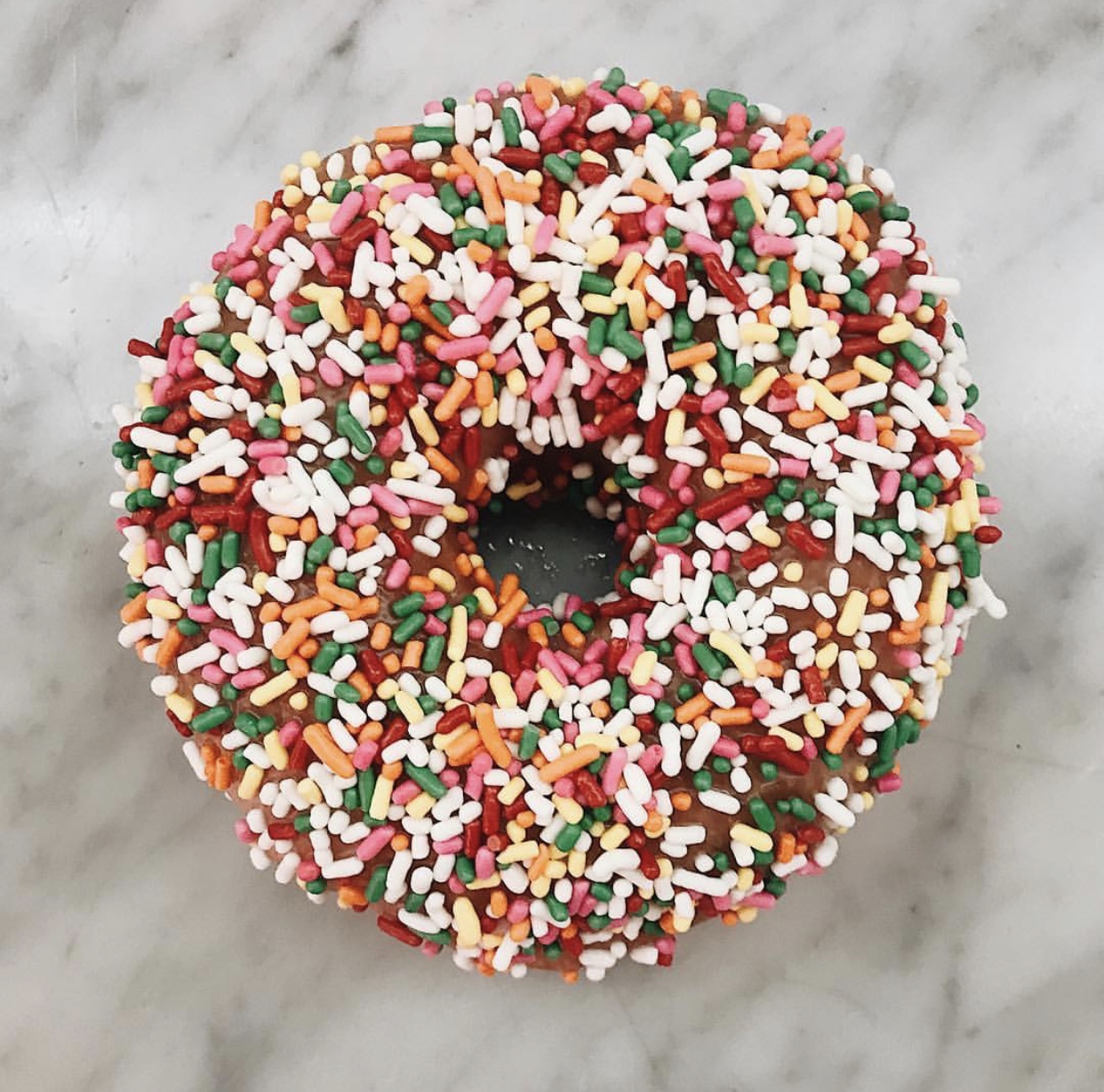 VANILLA BRIOCHE, VANILLA GLAZE, SPRINKLES
BACON BRIOCHE, MAPLE GLAZE, BACON CRUMBLES
VANILLA PASTRY CREAM FILLING, VANILLA GLAZE, BROWN SUGAR STREUSEL
RED VELVET BRIOCHE, CREAM CHEESE GLAZE, RED VELVET MILK CRUMB
VANILLA BRIOCHE, VANILLA GLAZE, GRAMCRACKER CRUMBLE, CHOCOLATE SHORTBREAD, CHOCOLATE DRIZZLE
VEGAN BRIOCHE, CARAMEL GLAZE, ROASTED ALMONDS, TOASTED COCONUT, CHOCOLATE DRIZZLE
VEGAN BRIOCHE, CARAMEL GLAZE, CHOCOLATE DRIZZLE, PEANUTS
VANILLA BRIOCHE, CARAMEL GLAZE, PISTACHIO STREUSEL
*AVAILABLE NON VEGAN*
VEGAN BRIOCHE, COCONUT LIME FILLING, CARAMEL LIME GLAZE, LIME CRUMB, TOASTED COCONUT
BRIOCHE, CARAMEL GLAZE, CARAMEL CORN, CANDIED PEANUTS
BRIOCHE, CARAMEL GLAZE, HAZELNUTS, CHOCOLATE DRIZZLE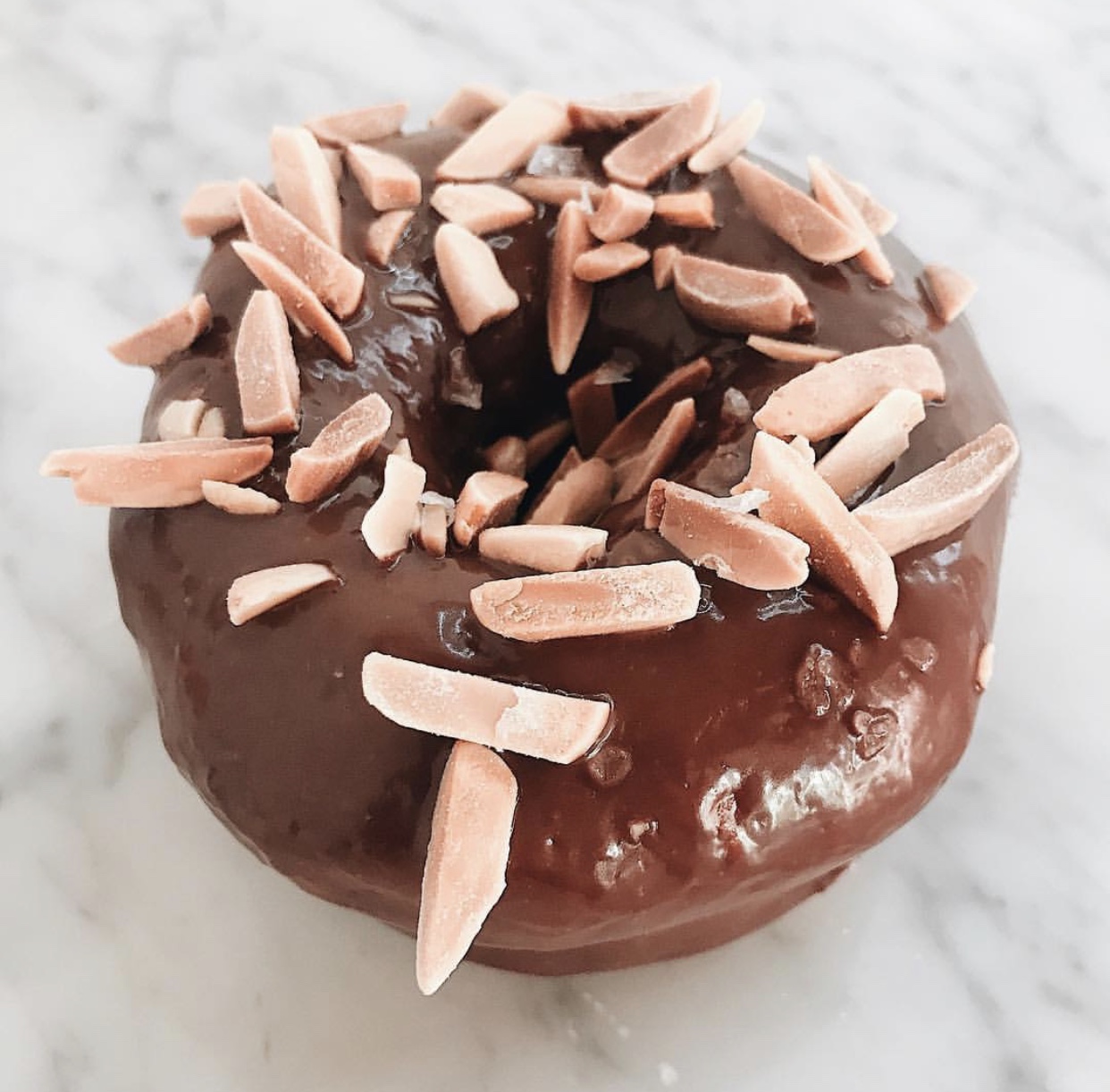 SALT WITH A DEADLY ALMOND
VANILLA BRIOCHE, CHOCOLATE GLAZE, TOASTED ALMONDS, SEA SALT
VEGAN BRIOCHE, CARAMEL GLAZE, TOASTED COCONUT, CRANBERRY DUST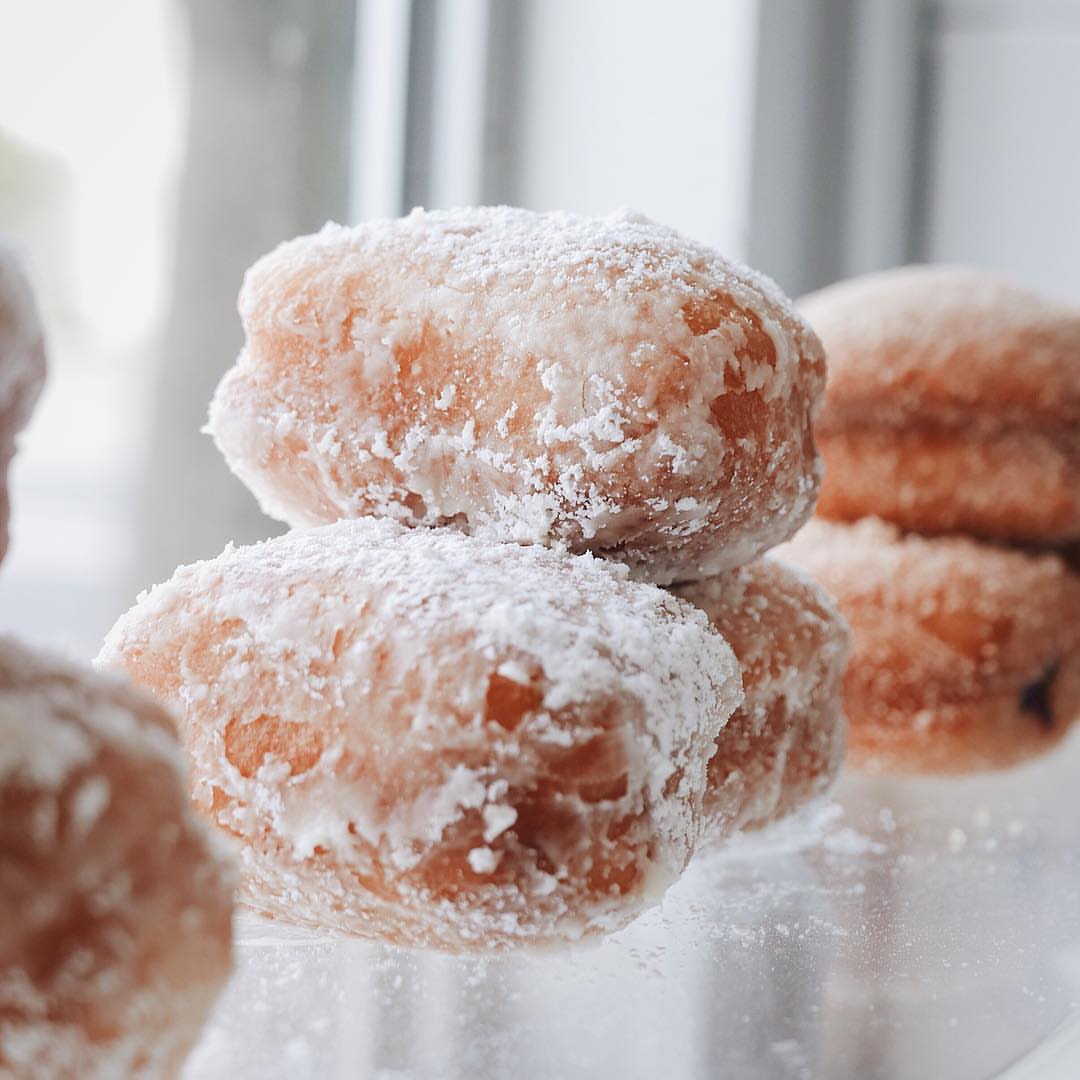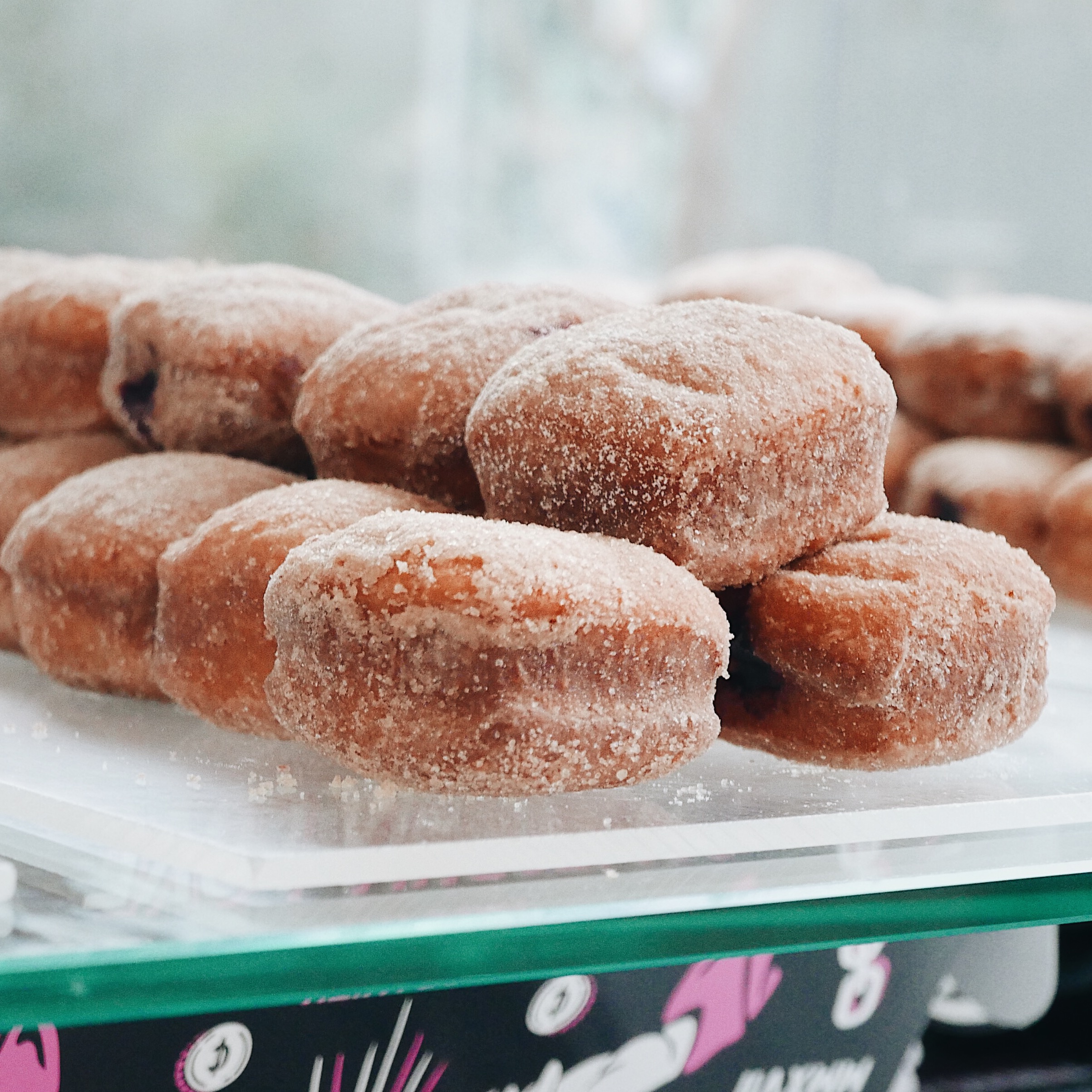 FILLED AND UNFILLED OPTIONS*